About Us
ABOUT SHOUT! FACTORY TV

Shout! Factory TV is a next-generation digital channel offering cult and classic TV and film that have shaped today's pop culture. Our library of over 2,000 hours of programming feature the following programs: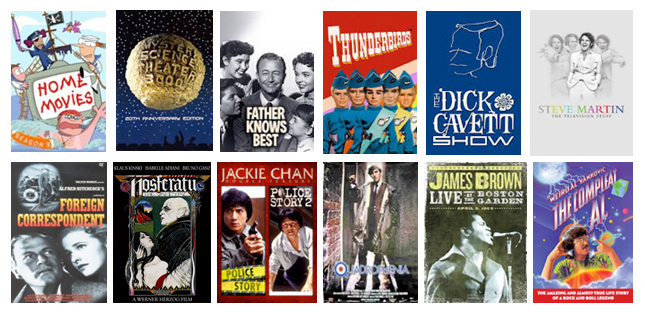 Mystery Science Theater 3000, the cult classic from the '90s. Originally airing on Comedy Central and Sci-Fi Channel, the series features hosts Joel, Mike, and the bots riffing on classically bad films. Related programs include Rifftrax, Film Crew, and Cinematic Titanic.
A selection of cult and classic TV and films from ITV Studios, the UK's biggest production company. Included are 100+ films, such as Oscar winners On Golden Pond and Sophie's Choice, and cult TV series like The Saint starring Roger Moore and Gerry Anderson's Thunderbirds.
Well-known within television program buying circles, the Westchester Library contains 400+ films, including Oscar winners such as Stagecoach, The Trip To Bountiful, and A Room With A View, as well as cult films including The Who's Quadrophenia and Dreamscape.
Shout! Factory has established relationships with well-known independent producers and studios. Cult TV and classic series include Super Sentai, Father Knows Best, The Dick Cavett Show, The Weird Al Show, and Steve Martin TV specials.
Original productions round out the Shout! Factory TV content library. Our shows include Backlot (derived from DVD bonus material produced over the past 15 years), MDA Telethon Presents (a series containing performances from 50 years of the Jerry Lewis Telethon), Horror Hunters, The Rise Of The Apollo Theater, Power Morphicon Live with more to come.


Shout! Factory TV is available on a variety of platforms, live and on-demand, and ad-supported free or subscription with no ads.

Desktop and mobile/tablet web browser – Watch for free, ad-supported on all major browsers
Android – Download the Shout! Factory TV app and watch for free
Amazon Fire TV – Download the Shout! Factory TV app and watch for free
Apple TV – Download the Shout! Factory TV app and watch for free
Roku – Download the Shout! Factory TV app and watch for free
Roku Premium Subscriptions – Watch ad-free for $2.99/month
Pluto TV – Watch the livestream for free
STIRR – Watch the livestream for free
Samsung TV Plus – Watch the livestream for free
Amazon Channels – Watch ad-free on the Amazon Video platform for $2.99/mo. and in the UK for £2.99/mo. Requires an Amazon Prime subscription
Twitch – Watch the livestream for free. Subscribe for no ads and custom chat emotes for $4.99/mo. Also available ad-free through Twitch Prime
XUMO / LG Channel Plus – Watch the livestream for free
Vewd – Watch on Vewd-enabled devices including Sony Bravia and Hisense TVs, Samsung and Sony Blu-ray players, and TiVo
Comcast Xfinity – Select programming on cable VOD and Xfinity.com (Xfinity customers only)

VRV – Select programming for free. Watch ad-free with a subscription to VRV Select

Programming stunts. Watching your favorite movies and TV shows is more fun on Shout! Factory TV. We create a variety of themed programming stunts with new original content and interactive elements to enhance your viewing experience. Check out some of our recent events.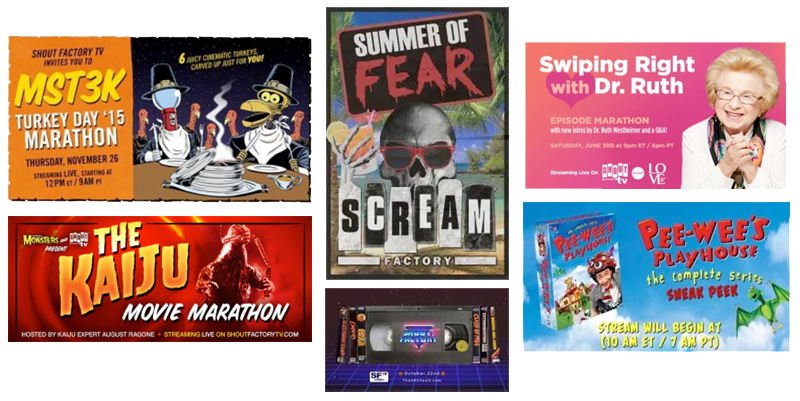 Mystery Science Theater 3000 Turkey Day Marathon – The tradition continues! 6 hand-picked episodes with new host intros from Joel, Jonah, Felicia, Tom Servo and Crow. Which episodes will they pick this year? Watch along and chat with thousands of fellow MSTies for an experience you won't want to miss!
Super Sentai Spectacular – From the show that inspired Power Rangers, watch livestreaming events with expert commentary, viewer interaction, original segments and more. There are over 40 series and we've only released five, so be prepared for many more to come.
Scream Factory – Shout! Factory's horror imprint, Scream Factory, dishes up specially themed programming for discriminating classic horror fans. Events such as the Summer Of Fear, Love Is In The Scare (Valentine's Day), and Five Nights Of Fear (nightly online screenings) provide fans with fun, interactive viewing experiences throughout the year.
VHS Vault – To celebrate films originally released during the VHS era, Shout! Factory TV offers a carefully curated collection of titles, digitized directly from the VHS tape source for an authentic VHS experience. Included are cult classics such as Kentucky Fried Movie, George Romero's Day Of The Dead, and Never Too Young To Die starring a young John Stamos. We've also added related titles, including Adjust Your Tracking – The Untold Story Of The VHS Collector, and A Real Job, a comedy set in a 1980's video rental store.


And the press has noticed: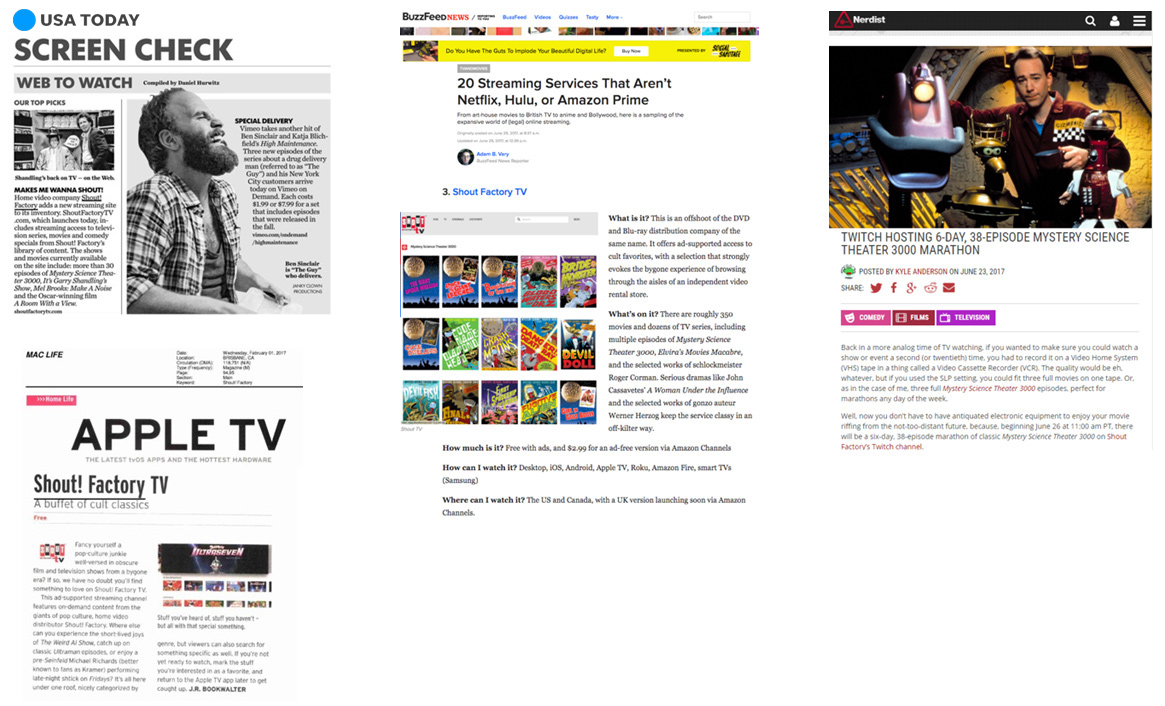 https://www.buzzfeed.com/adambvary/streaming-services-you-probably-didnt-know-existed
https://nerdist.com/twitch-mystery-science-theater-3000-marathon-mst3k
http://www.vulture.com/2015/02/your-new-streaming-source-for-classic-tv.html
https://www.usatoday.com/story/tech/2015/02/05/shout-factory-tv-streaming/22892247/
http://variety.com/2015/digital/news/shout-factory-launches-free-video-service-with-classic-tv-shows...